Virtual Power Plants
www.VirtualPowerPlants.com

What are "Virtual Power Plants"?
According to the Department of Energy, "Virtual Power Plants" (VPP) are an aggregation of customers such as; residential, commercial and/or industrial, under one type of Pricing, Demand Response / Demand Side Management or Distributed Energy Resources program. Under the VPP business model, utilities no loner need to group all of its customers within a particular program (and rate schedule) under one "umbrella." The VPP model permits utilities
to aggregate these programs by type and location in the distribution topology or some other agreed upon aggregation.
Custom-built CHP, Cogeneration, District Energy
& Trigeneration Energy Systems
Demand Side Management, District Energy,
Micro-Grid & Net Zero Energy Solutions
Produce the Clean Power & Energy Your Business Requires with a; CHP,
Cogeneration or Trigeneration energy system for a fuel cost of 4 cents/kWh
(with natural gas priced at $4.00/mmbtu)
"Changing the Way the World Makes and Uses Energy"
Austin, Texas
marketing@VirtualPowerPlants.com
Clean Power Generation Solutions

Our clean power generation systems are a superior "micro-grid"
and demand side management solution for data centers, hospitals,
universities and new real estate developments "net zero energy" solutions.

CHP Systems (Cogeneration and Trigeneration) Plants
Have Very High Efficiencies, Low Fuel Costs & Low Emissions
With Natural Gas prices at $5.00/mmbtu, our Clean Power Generation
plants generate power for a fuel cost at about $0.05/kWh.
The CHP System below is Rated at 900 kW and Features:
(2) Natural Gas Engines @ 450 kW each on one Skid with Optional
Selective Catalytic Reduction system that removes Nitrogen Oxides to "non-detect."
The Effective Heat Rate of the CHP System below is
4100 btu/kW with a Net System Efficiency of 92%.
CHP System may be the best solution for your company's economic and environmental sustainability as we "upgrade" natural gas to clean power with our clean power generation solutions.
Our Emissions Abatement solutions reduce Nitrogen Oxides to "non-detect" which means our CHP Systems can be installed and operated in most EPA non-attainment regions!

What are "Distributed Energy Resources"?
Distributed Energy Resources (DER) are small, modular, "onsite power generation" systems and energy storage technologies that provide electric capacity or thermal energy (i.e. hot water, chilled water, steam) at the residential, commercial or industrial client's home or business.
Distributed Energy Resources energy systems range in size from 3-5 kW for homes up to 10 MW for large commercial and industrial customers.
Distributed Energy Resources may include:

• Absorption chillers
• Battery Energy Storage
• Bulk Energy Storage
• CHP systems
• Cogeneration
• Compressed Air Energy Storage
• Demand Side Management
• Distributed PV (photovoltaic)
• Ecogeneration
• Energy Storage & Pumped Hydrostorage
• Flywheel Energy Storage
• Frequency Regulation
• Fuel Cells
• Geothermal
• Landfill gas to energy
• Load Leveling
• Micro-Grid
• Molten Salt Storage
• Net Zero Energy
• Peak Shifting
• Quadgeneration
• Rooftop PV (photovoltaic)
• Solar thermal systems (produces hot water)
• Trigeneration
• Waste Heat Recovery
Distributed Energy Resources are highly flexible, scalable and adaptable and can be be sized to meet any customer's specific power and energy requirements. Because Distributed Energy Resources are flexible and scalable DER systems can be installed to operate with the local electric grid, or as a "micro-grid" with no connection to the local electric grid also known as island mode or stand-alone mode.
As Distributed Energy Resources and the Micro-Grid will eventually replace the inefficient electric grid and highly-polluting & wasteful "central power plants."

How are Distributed Energy Resources systems and technologies used?

Distributed Energy Resources systems can be used in several ways including managing/reducing energy expenses and ensuring reliable power by augmenting your current energy services.

Distributed Energy Resources systems also enable a facility to operate independently of the electric power grid, whether by choice or out of necessity.

Distributed Energy Resources improve a customer's "carbon footprint" by significantly reducing their greenhouse gas emissions and increasing overall energy efficiency.
Utilities can use Distributed Energy Resources technologies to delay, reduce, or even eliminate the need to obtain additional power generation, transmission, and distribution equipment and infrastructure. At the same time, DER systems can provide voltage support and enhance local reliability.
Distributed Energy Resources are an ideal "demand side management" solution.


How do I know if Distributed Energy Resources systems and technologies are the right choice for my facility?

In today's economy and increasing pressure for businesses to reduce their greenhouse gas emissions, there are several economic and environmental factors making Distributed Energy Resources a serious option and alternative. These include the high prices of electricity from the electric grid/electric utility company as well as high natural gas costs from the natural gas utilities. Uncertainties regarding foreign oil, "peak oil" and the ever-increasing potential for disruptions in electricity service and oil from foreign oil countries are causing managers and CEO's of businesses to consider alternatives to traditional energy providers and for new ways to supplement or augment their present energy situation and present suppliers.

This is particularly crucial where a facility's energy-producing and electric grid infrastructure are aging. The performance, cost, and availability of DER technologies have all been improving steadily over the past several years. New Distributed Energy Resources systems and technologies are significantly more efficient than even ten years ago. Replacing or upgrading your present energy problems with Distributed Energy Resources may pay for itself sooner than expected.
Energy security as well as price of energy has never been a greater concern to businesses and their managers/CEO's and CFO's. Distributed Energy Resources systems can provide the requisite power and energy needed for mission-critical loads, reduce hazardous or costly power outages, and diversify the local energy supply.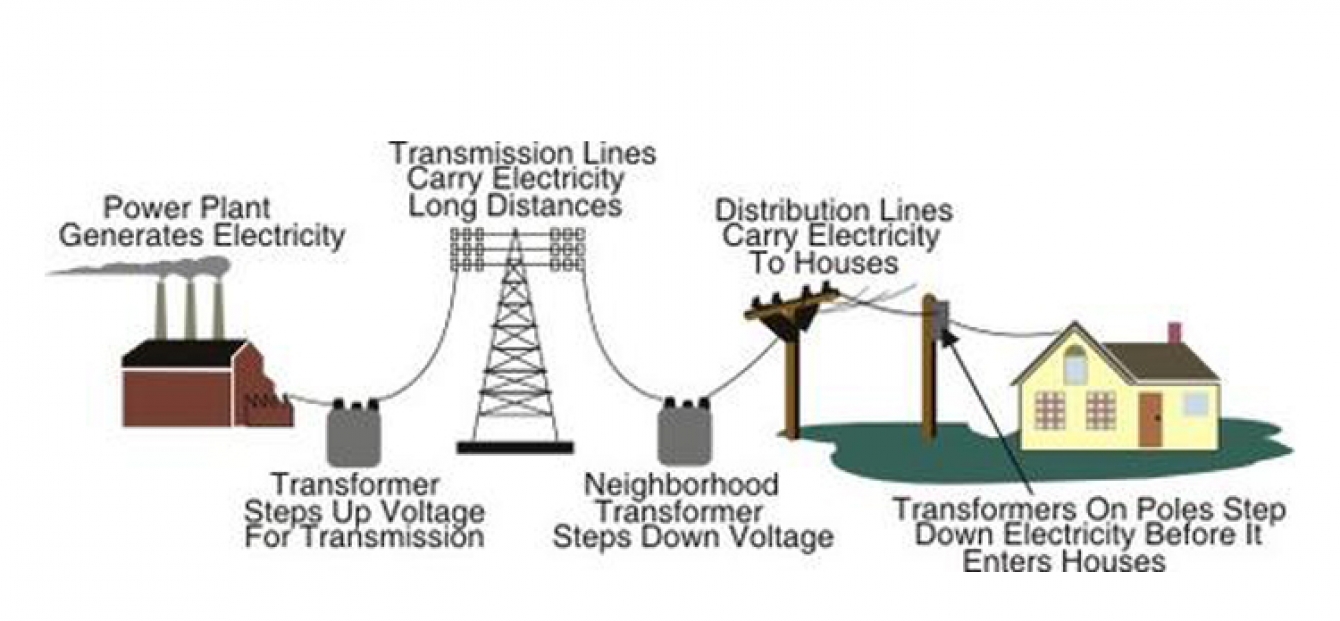 The Electric Grid from Power Plant to Load Center and Customer
Photo courtesy Energy.gov
Power, Efficiency and Resiliency (POWER) Act

Press Release
June 19, 2014
by Allyson Y. Schwartz

Washington, D.C - U.S. Representatives Allyson Y. Schwartz (PA-13), Chris Gibson (NY-19), Joseph Crowley (NY-14), Peter King (NY-2), and Richard Neal (MA-01) introduced the bipartisan Power, Efficiency and Resiliency (POWER) Act today. The legislation modifies tax incentives for two energy efficient technologies, combined heat and power (CHP) and waste heat to power (WHP).

CHP systems generate both electricity and heat from a single fuel source. According to a study from the Oak Ridge National Laboratory, CHP could be used to produce up to 20 percent of U.S. electrical capacity by 2030. This level of deployment would generate $234 billion in new investment, create nearly one million new highly skilled jobs, dramatically reduce energy consumption and carbon emissions, and improve the competitiveness of U.S. manufacturing by reducing energy costs. Additionally, by generating power where it is used, CHP systems ensure that critical facilities-such as hospitals, police stations and water treatment plants-are able to continue operating when the electrical grid goes down.

WHP systems recover the waste heat produced by industrial processes and use it to generate electricity. An Environmental Protection Agency Study estimated that WHP could be used to produce 10 gigawatts of emissions free electricity (enough to power 10 million homes), reduce costs to industry by $3 billion, and create 160,000 jobs.

"The Power Act incentivizes investment in energy efficient systems that protect our environment, encourage economic growth, and ensure that hospitals and other critical facilities are able to continue operating in emergencies, even when the electric grid goes down" said Schwartz. "That is why this legislation has the support of Democrats and Republicans, as well as a diverse coalition of business, labor, energy and environmental organizations."

"This common-sense legislation will encourage investment in technologies that reduce our dependence on fossil fuels, put people to work, and make sustainable energy systems more accessible to consumers," said Congressman Chris Gibson. "These systems are especially important to hospitals and emergency services in rural areas, where there's a greater risk of power outages due to severe weather and limited infrastructure."

"In the wake of Hurricane Sandy, even those areas least affected by the storm lost power for over a week -- with the exception of homes and businesses powered by CHP systems, such as in Co-op City in the Bronx. But it's not only the reliability of CHP systems that makes them attractive, it is also the fact that there are significant environmental benefits as well," said Rep. Joe Crowley (D-Queens, the Bronx). "I'm proud to join my colleagues in introducing bipartisan legislation that will help to strengthen critical infrastructure and generate economic growth."

The POWER Act reduces the initial capital cost of deploying these energy efficient projects by providing CHP and WHP with tax incentives on par with those available for renewable energy. Specifically, the legislation:

1. Increases the investment tax credit (ITC) for combined heat and power from 10 percent to 30 percent

Increasing the credit to 30 percent will place CHP on par with other energy sources that benefit from the ITC, including solar and fuel cells.

2. Applies the ITC to waste heat to power

Waste heat to power systems are currently excluded from the ITC.

3. Applies the ITC to the first 25 megawatts (MW)Power Eff of CHP projects-up from 15 MW-and eliminates the 50 MW project size cap

Expanding the ITC will incentivize additional projects, increasing the impact of the ITC and resulting benefits

4. Extends the Investment Tax Credit for an additional two years, through 2018.

In order to be eligible for the ITC, projects must be operation before the credit expires-December 31, 2016 under current law. A two year extension will provide a reasonable time frame for equipment purchase, installation, and permitting.
American Energy Plan
www.AmericanEnergyPlan.org
The market for Distributed PV, also known as "Rooftop PV"
will be a $60 billion/year market by 2013!
http://www.environmentalleader.com/2009/09/10/on-site-solar-poised-for-22-annual-growth/
NO FOREIGN OIL!
Support Domestic Oil and Gas Production!


"spending hundreds and hundreds and hundreds of billions of dollars every year for oil, much of it from the Middle East, is just about the single stupidest thing that modern society could possibly do. It's very difficult to think of anything more idiotic than that." ~ R. James Woolsey, Jr., former Director of the CIA


According to R. James Woolsey, for Director of the Central Intelligence Agency, "The basic insight is to realize that global warming, the geopolitics of oil, and warfare in the Persian Gulf are not separate problems — they are aspects of a single problem, the West's dependence on oil."
Energy Investment Banking
___________________________________________

www.EnergyInvestmentBanking.com



Follow us on Twitter:
#VirtualPower_
"Changing the Way the World Makes and Uses Energy"
Virtual Power Plants
www.VirtualPowerPlants.com
marketing@VirtualPowerPlants.com
VirtualPowerPlants.com
Copyright © 2007
All Rights Reserved